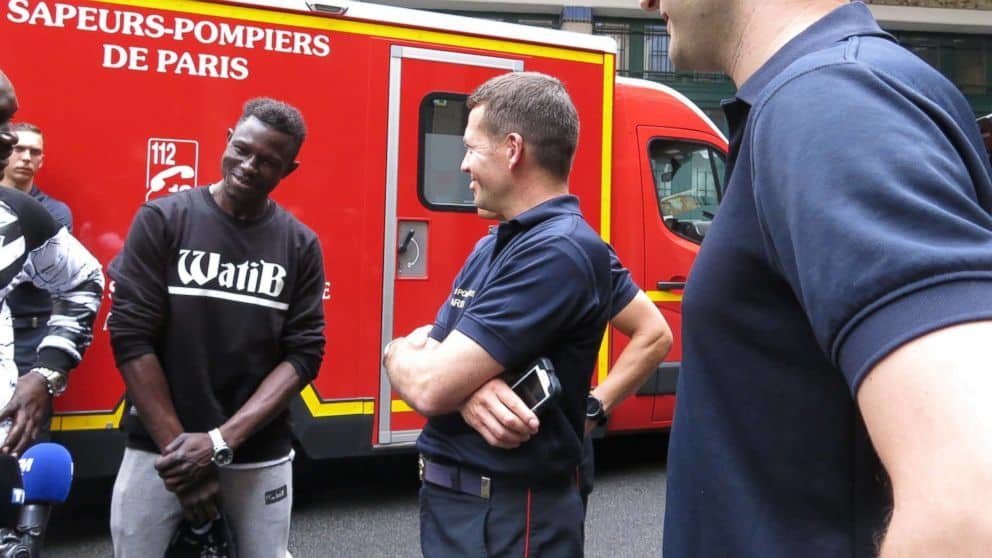 Paris Hero Offered an Internship with Local Fire Brigade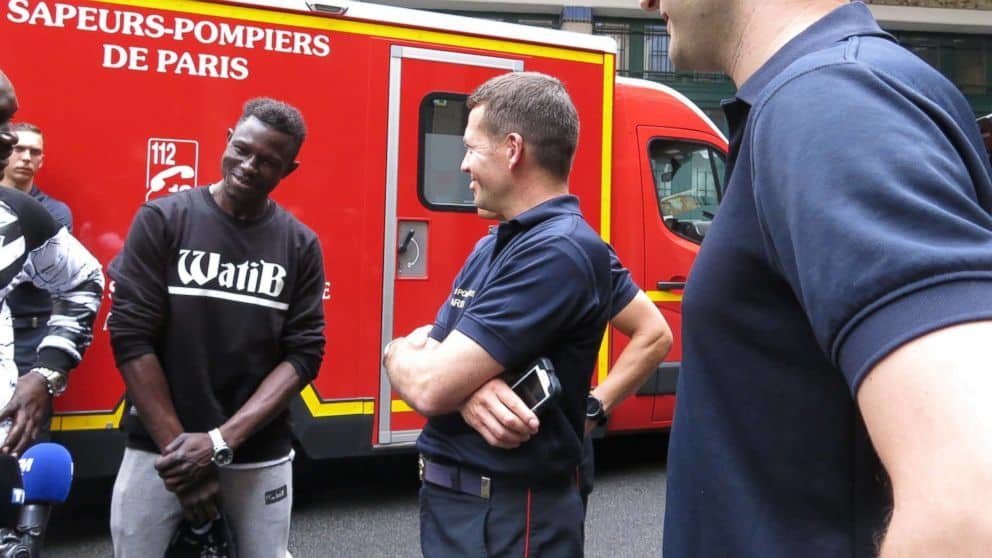 Ever since we were children, it has been implanted into our minds that good deeds get rewarded, while bad deeds are punished. We carry this even into our adulthood, where we use a reward as an enticement for people to do well.
This is something we do to people around us, even without our conscious decision. However, sometimes, good deeds go unrewarded. Itā€™s not always that a good deed is given the appropriate reward. That is not the case here though, when Mamoudou Gassama, the man who rescued a child in Paris, is now offered a way to realize his dream of becoming a firefighter.
Finally Rewarded
The 22-year-old man from Mali who was the hero in the rescue of a boy hanging from a balcony over the weekend in Paris, met with firefighters from the Paris fire brigade last Tuesday. Mamoudou Gassama, who arrived in France last September, has been offered a 10-month internship with the brigade and will receive around 600 euros ($690) a month. This is the standard salary for internships in France. The head of the Paris fire brigade said he was welcoming Mamoudou Gassama so that he could discover what their job was like.
ā€œI am going to do everything I can to become a firefighterā€, Gassama replied. Videos of Gassama scaling a building in northern Paris and pulling a young boy to safety went viral. French President Macron welcomed Gassama on Monday at the Elysee Palace and offered him to become a French citizen in the coming weeks. Gassama has already been granted legal immigration status.
Immigration Made Easy
Mamoudou Gassama, 22, was an undocumented immigrant from Mali, that became a national hero despite having been in France for less than six months. Meanwhile, the Paris Mayor Hidalgo said the city would help him in his effort to stay in France. At a moment when life is becoming increasingly difficult for immigrants in France, Gassama has become an overnight celebrity after his Saturday night heroics.
Macronā€™s government has cracked down on economic immigrants in particular and has doubled the amount of time that authorities can detain newly arrived undocumented immigrants. At the same time, the Interior Ministry also mandated the closure of makeshift migrant camps in Paris; a young male immigrant at one of the camps drowned last May. But critics of the governmentā€™s hard-line have seized on Gassamaā€™s example. An online petition calling for him to be granted his residency papers began. When he met Gassama, Macron offered him a job as a firefighter and said his application for naturalization would be streamlined.
On Tuesday morning, Gassama received his residency permit, a process that typically takes months and mountains of paperwork to complete successfully. Hidalgo said via Twitter that Gassama explained to him how he arrived from Mali several months ago, dreaming of building his life in Paris. ā€œI told him that his heroic gesture was an example for all citizens. ā€Gassama recounted the chain of events on Saturday night to Franceā€™s Le Parisien newspaper.
Story of Heroism
Around 8 p.m., he was with his girlfriend in Paris 18th arrondissement or district. As he was walking down Marx-Dormoy street, he saw a crowd gathered below a building, with people screaming and pointing up. Then he saw the boy, who authorities later said was four. ā€œI climbed up to save him, voilĆ ,ā€ Gassama told Le Parisien. ā€œI did it because it was a kid. I love children very much.ā€
ā€œI didnā€™t think about the floors,ā€ he said, referring to the building he scaled. ā€œI didnā€™t think about the risk.ā€ For many, the question was how the 4-year-old boy had managed to climb over the balconyā€™s railing in the first place. The childā€™s mother was not in the city during the incident, and his father, who had apparently left the boy home alone, was questioned by authorities, a judicial source told Agence France-Presse.