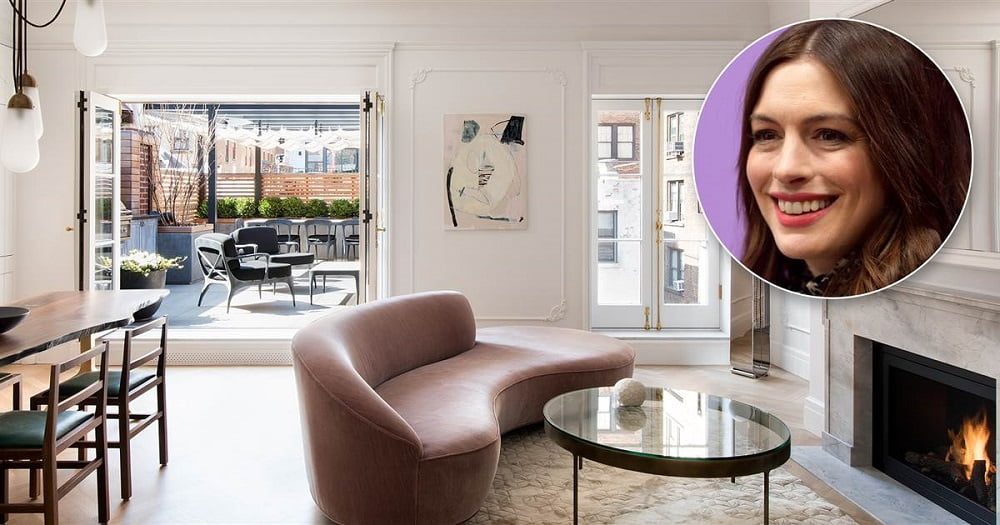 Anne Hathaway is Selling Her NYC Penthouse for $3.495 Million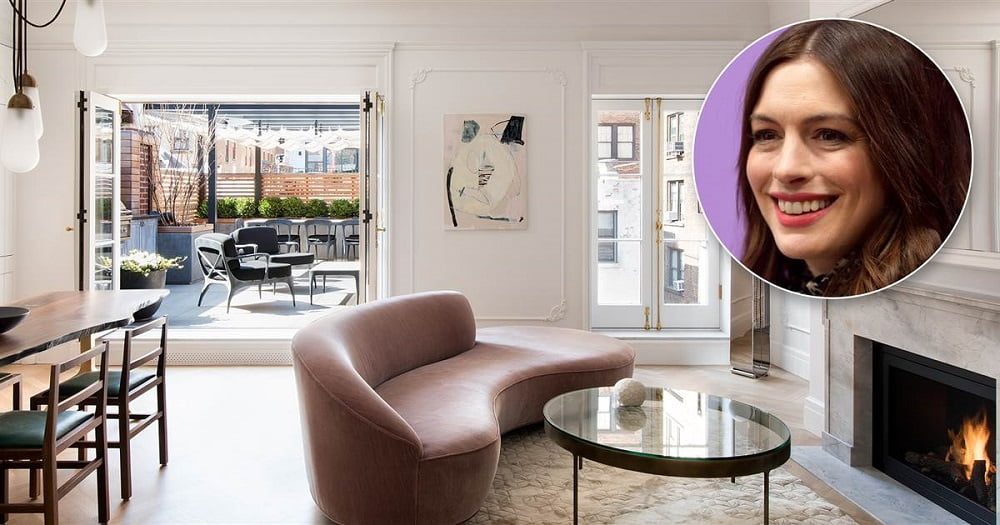 The Ocean's 8 star Anne Hathaway and husband Adam Shulman have listed their Upper West Side penthouse for $3.495 million. 
Having purchased it in 2016 for $2.55 million, the bump in the value is quite understandable since the couple has invested in renovating the glam-minimalist New York City penthouse.
The 2-bedroom apartment is part of a brick-fronted co-op that was built in 1904. One of 5 homes in the building, Hathaway and Shulman's penthouse can be accessed through a private elevator.
The interior features a large open-plan living space with a living room, dining room, and kitchen area. It also has pocket doors that leads you to the spacious private terrace.
In the living room, you can lounge on a blush-colored sofa while enjoying the warmth from the white marble fireplace. For entertainment, there is a hidden large flat-screen TV behind a mirrored surface.
Although the space in the kitchen isn't quite wide, the 18-foot high ceilings make up for it. There is also a bronze wall ladder that adds character to the home's in-kitchen dining space.
The skylight in the master suite is a selling point, while the deep soaking tub in the master bathroom also adds value to the home. This bathroom and a second bathroom both have heated floors.
The 37-year-old Hathaway and 38-year-old Shulman have added some neat features to the abode while it was still part of their real estate portfolio. The home now has white oak herringbone floors, French casement windows, and raised ceilings, which is evident in the kitchen.
Although they are giving up this property, Hathaway and Shulman, who tied the knot in 2012, still have another home they maintain. They also own a historic home in Southern California. The Dukes of Hazzard: The Beginning actor has revealed that they were hooked on the property upon seeing the panoramic view. As for The Princess Diaries actress, she sees it as a place where they could raise their family.
Anne and Adam reportedly welcomed their second child in late 2019. According to sources, it is still a boy. The couple already has a 3-year-old son named Jonathan Rosebanks Shulman.